Swinger Tommy Sheridan's Last Stand: The Fit And Proper Lawyer
TOMMY Sheridan will have another day in court. It's one for the Diary, writes AGW:
Dear Diary

Wednesday, January 26, 2011……Australia Day and the Australian Open Tennis Tourney will be shaping to its final…always good for sports copy. One to watch.
Wednesday, January 26. Wedding anniversary …good for copy on vicious assault – on me – if I forget to remember appropriate gift and card.
Wednesday, January 26. Scrum-down and probably big party when former Scottish Socialist Party leader Tommy Sheridan is sentenced after being found guilty of lying about an affair and sex club trip during his defamation case against the News of the World.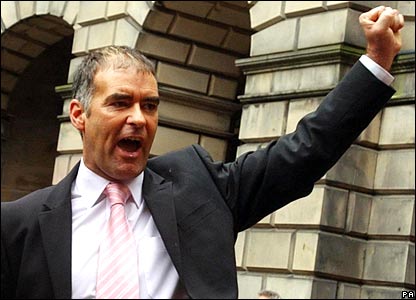 The former Member of the Scottish Parliament was convicted of perjury after a 12-week trial at the Glasgow High Court. The verdict brought the closing stages of a six-year media-fest started by theNoW tale of Sex in the City of Manchester and an unnamed politician who visited Cupids Bar a swingers' club.
The politician sued…to the absolute horror of some of his senior political colleagues.
In 2006 Sheridan won £200,000 damages (never handed over) after a successful defamation case against the Murdoch-owned Sunday, but was again in the dock in October 2010 after witnesses and others accused him of lying in the civil trial.
The civil trial judge had asked police to investigate.
This time the would-be lawyer Sheridan again demonstrated his now usual tactic of sacking his barrister and representing himself. This time he failed to impress the jury.
It took around six-and-a-half hours to convict Sheridan of five of the six allegations against him.

His wife Gail, pictured in today's Daily Express, was acquitted of perjury at the judge's direction a week before Sheridan's guilty verdict.
As George Foreman allegedly told Muhammad Ali: "You're going down." The judge has told Sheridan to expect a jail-term, George was wrong about the Rumble in the Jungle. On the other hand, Tommy is unlikely to be standing on the court steps in a triumphal pose after his date with Alastair Peter Campbell, Lord Bracadal, QC.
(I wonder if I'll get away with buying that for the other vital date this week
Thursday, January 27, 2011: The wife's birthday… Maybe not.)
Tommy Sheridan is studying law. If he is to practice in Scotland he has to persuade the Law Society of Scotland he is a "fit and proper" person. Any conviction may be taken as a factor in deciding if he meets requirements. The Society gives perjury as an example of what may not be acceptable. His future career paths could be limited.
If you don't want to go down try reading this it may help keep your head above water.
It also shows Anorak is often a little ahead of the game…
ENJOY: Tommy Sheridan: The Best Quotes From An Entertaining Case Of Beckham, Sex And Lies
Posted: 24th, January 2011 | In: Politicians Comment | Follow the Comments on our RSS feed: RSS 2.0 | TrackBack | Permalink