Swinger Tommy Sheridan's Last Stand: The Fit And Proper Lawyer
TOMMY Sheridan will have another day in court. It's one for the Diary, writes AGW :
Dear Diary

Wednesday, January 26, 2011 ……Australia Day and the Australian Open Tennis Tourney will be shaping to its final…always good for sports copy. One to watch.
Wednesday, January 26. Wedding anniversary …good for copy on vicious assault – on me – if I forget to remember appropriate gift and card.
Wednesday, January 26. Scrum-down and probably big party when former Scottish Socialist Party leader Tommy Sheridan is sentenced after being found guilty of lying about an affair and sex club trip during his defamation case against the  News of the World .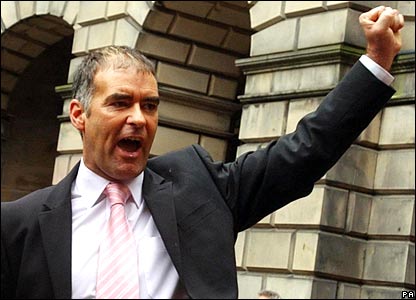 The former Member of the Scottish Parliament was convicted of perjury after a 12-week trial at the Glasgow High Court. The verdict brought the closing stages of a six-year media-fest started by the NoW tale of Sex in the City of Manchester and an unnamed politician who visited Cupids Bar a swingers' club.
The politician sued…to the absolute horror of some of his senior political colleagues.
In 2006 Sheridan won £200,000 damages (never handed over) after a successful defamation case against the Murdoch-owned Sunday, but was again in the dock in October 2010 after witnesses and others accused him of lying in the civil trial.
The civil trial judge had asked police to investigate.
This time the would-be lawyer Sheridan again demonstrated his now usual tactic of sacking his barrister and representing himself. This
Posted: 24th, January 2011 | In: Politicians Comment | Follow the Comments on our RSS feed: RSS 2.0 | TrackBack | Permalink