David Montgomery: Life, Times And A Running Obituary
WHEN crooked media mogul Bob Maxwell went gurgling down for the last time somewhere in the Atlantic Ocean in 1991, the Mirror Group empire he asset-stripped bare was foundering.
Maxwell acolytes like the unconscionable and actually not very scary Anne Robinson
floated briefly by with glowing tributes to the " great man ".
Anne says nothing about Maxwell these days. The pre-drowning pension scheme robberies which were rapidly revealed quickly choked the eulogies.
Out of the torn newsprint of the corporate disaster came the Saviour.
Co. Down born David Montgomery. He was hard newsman, a journalist of some repute and said to be a tip-top sub-editor. A man who could cut and snip any story to fit the tightly-packed and honed pages of any classic Red Top tabloid. He carried forward the style into newspaper management and, as a hard-liner who did not particularly like any of his fellow journalists, became one of the most despised media figures of the last part of the 20th Century.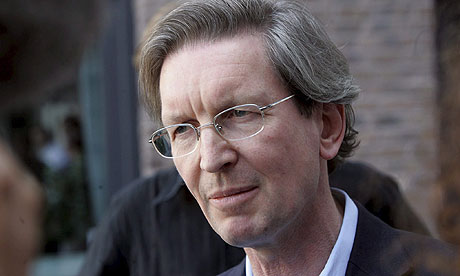 His was a regime of hone, cut, cut and cut again to get group profits up and expand the empire. The Guardian is the best of the media watch dogs in the UK and last September gave Montgomery's CV as:
1948 born Bangor, Northern Ireland. Educated at Queen's University followed by Mirror Group training scheme at Plymouth
1973 subeditor, Daily Mirror
1980 chief sub, the Sun
1981 assistant editor, the People
1985 editor, News of the World
1987 editor, Today, and director News (UK), a division of News International
1991 chief executive, Mirror Group Newspapers
2000 founder and chief executive, Mecom
He did well at Mecom and made a lot of money. It is his longest held position.
Mecom was a primarily Euro enterprise and  David Montgomery (click the link for a lot more Guardian in-depth coverage) did not have an easy ten years. The big business equity approach to news gathering and giving did not please many in Germany or Holland and the Danes were not too keen either.
Montgomery survived until late last year went he was forced into a  "planned" retirement. By that time even the UK investors had seen the writing on the wall rather than the balance sheet.
A couple of days ago another nail into the coffin lid came with the news of the appointment of Stephen Davidson, the former chief executive of Telewest, as executive chairman.
As the invective flies the Guardian continues to watch (as it should) and Anorak sometime running mate Madame Arcati has her/his unique viewpoint. .
What is sometimes lost is the fact the Montgomery tactics have probably saved many UK newspaper titles. When the Trinity-Mirror group Provincial
Posted: 1st, February 2011 | In: News Comment | Follow the Comments on our RSS feed: RSS 2.0 | TrackBack | Permalink