More Questions Than Answers As Disgraced Dr Liam Fox Is Nailed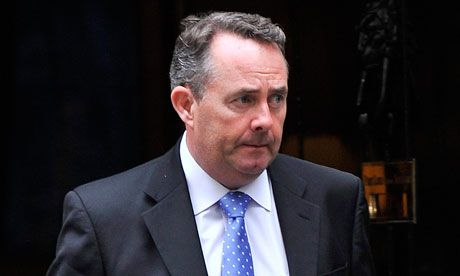 FORMER UK Defence Secretary Dr Liam Fox broke most of the rules in the book.
It turns out the Civil Service knew of and disliked young Mr Adam Werrity's cast iron determination to stick close to the shirt tails of the former UK Defence Secretary.
Predictably, the relationship eventually forced the 50-year-old Dr Liam Fox's resignation.
The, it has to be said, fleeting inquiry into the affairs of State and definitely non Statesman-like activities of Dr Fox while in charge of one of Britain's biggest spending departments has hammered Fox and said he fell woefully short of what should be expected of a Minister.
The report says he " failed to live up to the standards " required.
Fox resigned last Friday, October 14, as Whitehall's senior staffer Sir Gus O'Donnell was conducting the inquiry. Up to that point he has brazened it out saying he would NOT resign.
Sir Gus says Fox's behaviour made him a security risk and breached the ministerial code. There were concerns within the Ministry of Defence Civil Service staff and his own advisers of the probity and wisdom of the relationships between Werrity and Fox. Fox on two disturbing occasions had refused to have MoD officials in attendance at meetings preferring to have his Best Man Adam at his side. Fox was also twice warned by his private office and MoD permanent secretary Ursula Brennan of the risks posed by his association with Mr Werritty.

Fox's Ursula Brennan…not a happy bunny
O'Donnell's brief 10-page report can only be described as damning. It details Fox's dealings with former flatmate and best man Adam Werritty, 33, an ex-defence consultant, who travelled around the world with him, claiming to be an adviser.
The report clears Fox of making any financial gain from the relationship or of breaching national security. It does say he risked the security of both himself and his staff.
Sir Gus is now suggesting five new rules to govern the behaviour of ministers, which have been accepted by Prime Minister David Cameron.
These include ministers giving details to their civil servants of private meetings where substantive issues are discussed, and for departmental permanent secretaries to ask the Prime Minister to intervene, if necessary, if a minister fails to heed their warnings over contacts with individuals or organisations.
It beggars belief this was not already done in this
Posted: 19th, October 2011 | In: Key Posts, News Comment (1) | Follow the Comments on our RSS feed: RSS 2.0 | TrackBack | Permalink