Libya Wants Nato Help Finishing Off Gaddafi Fighters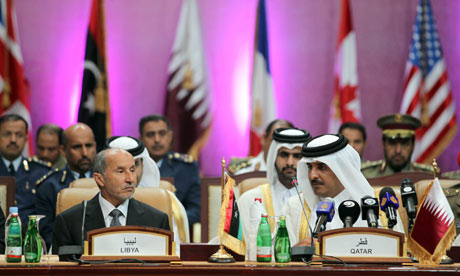 LIBYA wants Nato to stay in the air to hound/pound Gaddafi supporters until at least early 2012.
The country's, out-going interim leader Mustafa Abdel Jalil told military allies in Qatar today help was wanted to mop up stragglers trying to leave Libya. It apparently means the new Government regards all Gaddafi supporters as war criminals.
Photo: Mustafa Abdel Jalil, left, at the friends of Libya conference in Qatar today
Nato who provided all rebel force air cover during the fight against Gaddafi had been thought ready to pull out on October 30 after Gaddafi's death and burial and last Sunday's announcement by
Posted: 26th, October 2011 | In: News Comment (1) | Follow the Comments on our RSS feed: RSS 2.0 | TrackBack | Permalink