Qantas' Wapping Effect: Alan Joyce Might Be The Airline Industry's Rupert Murdoch
ALAN Joyce,45, the Irish-born Chief Executive of the Oz flagship Qantas airline is openly as gay as the campiest steward to be found in any Little England cabin crew…but has bugger all sympathy with their fair wage and conditions causes.
In an unprecedented move, he told the entire fleet to get down and an industrial disputes quango has ordered him to put them back up again.

Photo: Qantas boss Alan Joyce shows the strain of his brinkmanship grounding of the entire fleet
Joyce sees the airline's future as cutting down on long-haul flights world-wide and concentrate on the more lucrative (he thinks) Pacific Rim trade. Asia is the market he fancies and wants to cut flight prices, shedding jobs and old working ways to fund it all.
Australian trade unions have the sort of reputation once reserved for British Motor Corporation's car plant workers. They are tough and bloody-minded and been fighting their corner for several months with a series of strikes. Qantas managements were reeling as disruptions to flight schedules became more and more difficult…especially as pilots were getting uppity too. Captains were making in-flight cabin announcements re the industrial disputes and annoying passengers and employer.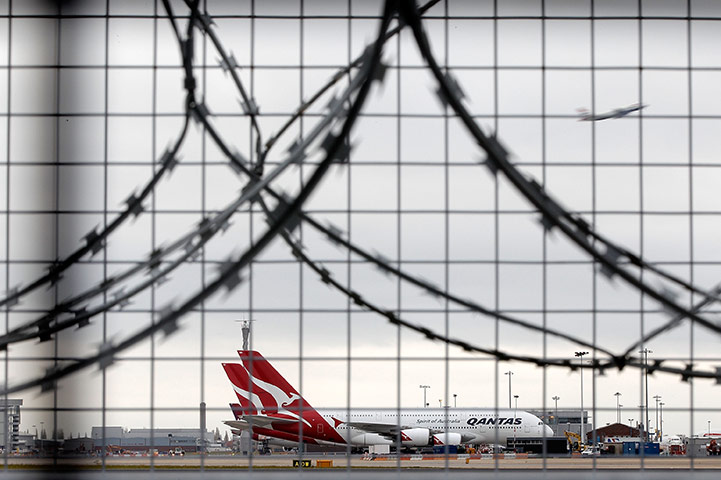 The Qantas board may very well have prodded their main man to the front to make the sensational announcement the airline was last Saturday grounding its fleet world-wide, locking out staff and taking on its three principal employee unions. Dramatically cutting its own throat before unions did.
The action hit world-wide and an estimated 70,000 passengers were stranded and scrambling for alternative airline seats. Almost all major airports were affected and many had empty cooled down Qantas planes near terminal gates.
Australia's gutsy Prime Minister Welsh-born Julia Gillard, 50, was having none of it and referred the whole dispute to the Oz industrial supremo the quango
Posted: 31st, October 2011 | In: Key Posts, News Comment (1) | Follow the Comments on our RSS feed: RSS 2.0 | TrackBack | Permalink