Bagels And Booze On Persian Gulf Air
COME fly Persian Air. Eat like a Jew and drink like an infidel: 
Pictures of the very first Airbus 380 flying from Dubai to New York City show a smiling attendant at the first class bar. Yes, a Persian Gulf airline serves alcohol. But what's really of interest is the plump bagel sitting on the right side of the counter, under a glass top. Bagels are, of course, the Jewish ethnic food that legend holds goes back to 1683 and the defeat of the Turkish army at Vienna.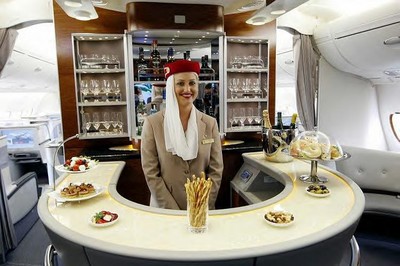 "Der Spiegel" published this picture to illustrate its story on the maiden Airbus 380 flight from Dubai to New York.
Posted: 27th, August 2008 | In: Reviews Comments (4) | TrackBack | Permalink