David Calvert Is The Man Who Could Never Be Everton's Jon Venables
LACK of hard news makes strange bedfellows. The Sun and Daily Mail are today both among those who carry the tale of the 27-year-old man who is not, and will never be, murderer Jon Venables, writes AGW.
The Sun's Ben Ashford finds David Calvert, a Liverpool-born father of four who may live up the road in Fleetwood and over 2,000 angry others think he looks like what joint child killer Jon Venables may look like.
David and his partner Debbie have had to move five times because of mistaken identity headaches.
David Calvert…the, alleged, may-be-
Jon Venables-look-a-like
Despite a Facebook page, now taken down, David can not be the man now in prison awaiting a decision by a Parole Board on the revoking of his life-licence.
Ben says David is now in hiding because of fears over his mistaken identity…just as Jon Venables was alleged to have been …or not. Ben also tells us David has been in prison but not for violence, in David's case it was fraud.
Such is the tabloid appetite to get the facts and nothing but the facts.
The Daily Mail sees Baroness Butler-Sloss's vigilantes and Mail-man Stephen Wright again sees a father of four living in fear with his partner and family because over 2,000 are hunting him and email chain letters have branded him as two-year-old James Bulger's killer. The Mail writer adds this is not a new witch-hunt and David Calvert has been mistaken for Jon Venables for over five years and has moved several times.
Such was the inferred nature of secondary impact identification when Bulger and Thompson were freed on life-licence back in 2001. Except it wasn't.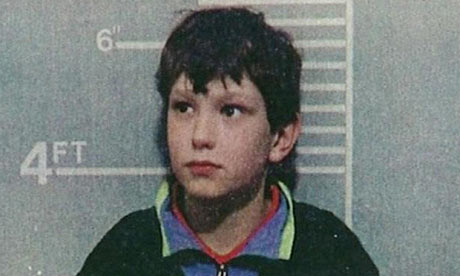 Image: The real Jon Venables
David Calvert told The Mail:
"I tried to tell people I had nothing to do with it but people would not listen and we were forced to flee for our lives."
Such is the nature of publicity. Fathers Flee.
The Facebook page was closed down, The Mail confirmed.
It also adds to Mr Calvert's definite, not alleged, crime sheet by saying he has served time in prison for a variety of offences and the problems began when he moved to Fleetwood. Some were said to have branded David a rapist and encouraged others to kill him.
Such is the nature of of a suspicious and insular Fleetwood…just North of Lancashire's fun-Capital Blackpool where Jon Venable went on day-trips and shopping expeditions from his nearby secure children's unit, itself just West of Preston Crown Court where in 1993 Jon Venables and Robert Thompson were at ten-years-old found guilty of murder.

Such is the accidental nature of location …and very long sentences..
"To begin with people were friendly and nice but then someone got it into their head that I was Venables under a different name," David said.
"I tried to reason with them but I am the right age and I suppose people might think I could look like him."
The Guardian had led the way on this yarn and had the story a full eight hours ahead of the tabloids, Helen Carter's version is here . The contradictions start, in the Guardian's pages David Calvert is a father of two.
The Mail spots two other lines:



Jack Straw admitted things were getting out of hand over coverage of the Jon Venables case and told John Humphrys on the Radio 4 Today programme:
"I want to do is to look at what has already been made public, be it through agencies or newspapers, not officially, and then to make a judgement about whether this information, given that it's now out of our hands, we can confirm."
Humphrys responded:
"I may sound like a third-rate lawyer here but we've kind of already confirmed that what's in the papers is accurate because, as you said, it's out anyway."
Mr Straw said that Venables 'may have committed further serious offences', adding:
"It's precisely because a criminal investigation is under way that I, the Crown Prosecution Service and the police were extremely anxious that there should not be such publicity as possibly to prejudice a future criminal investigation, charges or trial."
So the UK's Justice Secretary, hours after having told Parliament he wants to keep a lid on speculation, tells the Nation via a vast audience BBC news programme, "there may be further offences."

Brilliant! Thanks Jack; positive hints of more to come. The Attorney General should be pleased with that one.
Such is the nature of Lord Chancellor's allegedly cozening the media.
One Anorak penny has finally dropped into place at the Daily Mail:
Jon Venables IS in prison and his life-licence has been revoked. To be freed again he has to have positive action by a Parole Board. That Parole Board will meet "soon" and will consist of a judge sitting with experienced assessors. They will decide if the revoking procedure was correct.

If it was, Venables and A. N. Other stays in jail. Game Over.

If it was not and is overturned, A.N. Other and not Jon Venables will be released. Play resumes.
It begins to look like a Monopoly game: he may not pass Go; could collect more than £200 …but, if he is given a Get Out Of Jail Free card, it is just possible A.N. Other could immediately face criminal charge(s ??).
It is a chaotic mess and the fault does NOT lie at the media's door.
The fact he has had his licence revoked has already massively prejudiced any future trial and there is much talk of how any trial could be held safely.

Such is the nature of lawyers, secrecy and justice being seen to done…or not.
Meanwhile, somewhere, a dad-of-four (or two) who has not been confirmed as an Everton supporter, remains uneasy because he is who he says he is.
Posted: 10th, March 2010 | In: Key Posts, Reviews Comments (25) | TrackBack | Permalink