James Bulger's Mum Denise Fergus Gets A Sorry From Maggie Atkinson, The Woman She Wants Fired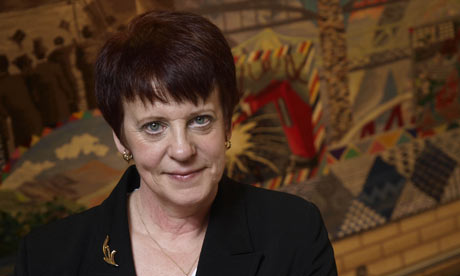 MAGGIE Atkinson, the Children's commissioner admits causing 'hurt' caused by saying Jon Venables and Robert Thompson had unfair trial, says the Guardian this afternoon.
Schools Minister Ed Balls sprang to the defence of his protege Atkinson after her interview with The Times was published on Saturday – the one with the "unpleasant thing".
Today Atkinson, the £150,000 a year newly-appointed Commissioner, told the BBC she has privately apologised to Denise Fergus the mother of James Bulger for the "hurt" caused by her comments that Jon Venables and Robert Thompson were too young to stand trial for his murder.
James's mother, Denise (left), said Atkinson should be sacked over comments made as part of a call for the age of criminal responsibility to be raised.
Fergus described Atkinson's comments in the Times interview as "twisted and insensitive".
Atkinson today told BBC Radio 4's Woman's Hour programme:
"There's a private letter of apology from me going to Denise Fergus for the hurt that was caused by the comments."
– AGW – The BBC carries a fuller version here
Posted: 17th, March 2010 | In: Reviews Comment | TrackBack | Permalink