Papal Bull As the Pope, Sean Brady And the Catholic Church Protect Peado Priests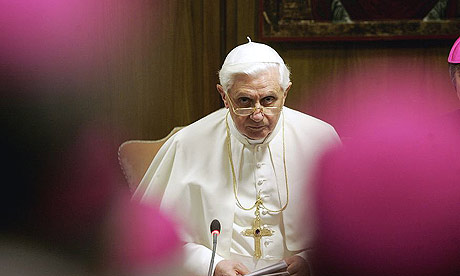 THE Catholic Church and the paedo priests continued: A glance at today's Guardian brings a particularly crude but very relevant joke to mind:
Q. What are the similarities between a pint of Guinness and a Roman Catholic Priest?
A. Both are black with white collars.
If you get a bad one of either, you'll have sore arse in the morning.
Devil In Vatican After Tour Of Pope's German Retreat With H
Click on the link above to read The Guardian's coverage of just one of the 700 recently revealed new cases of sex abuse involving Priests.
Already on St Patrick's day in Armagh the Primate of All Ireland, Sean Brady, told the congregation in his cathedral that the clergy should admit "the full truth of our sinfulness".
Brady is only one of dozens of Prelates bowing their heads to beg forgiveness in the Netherlands, Austria, Germany and the German-speaking parts of Switzerland and Italy.
The Midlands Prepares To Assassinate The Pope
It gets worse; there is now open rebellion actually happening in the churches.
The Guardian says: 'The Bavarian spa town of Bad Tölz had just learned a terrible secret.
'It had been reported that one of their curates was a convicted paedophile, Peter Hullermann. The curate who had officiated at the children's mass. The one who had been with their sons and daughters the year before at a camp-site in the mountains over their medieval town.'
The Parish priest decided to tackle it head on:
In his sermon at the main mass last Sunday morning, he began with the parable of the prodigal son – and was stopped dead in mid-sentence.
"I cannot listen to that," shouted a man who was soon to have been married by Hullerman. "You just cannot dodge the issue any longer," he continued as other parishioners broke into applause and some began shouting "shut your mouth" at their parish priest.
This is an unprecedented hiatus for the Vatican. Millions are vocalising there despair and disappointment in their priests.
Cardinal Sean Brady Picks A Good St Patrick's Day To Bury Bad News On The Paedo Priest
This is no longer a small aberration in a remote American parish or urban jungle, nor is it some Father Ted or drunken Father Jack being inappropriate in the boiler room of the church hall. It is not the (true) dirty joke where the Bishop of Argyll and the Highlands quit after it was revealed he was shagging his divorced housekeeper witless.
Pope Benedict XVI does not have the remedy available to his medieval fore-appointees:

In the good old days, heretics were burned at the stake and iffy priests were dispatched to rape, torture and then destroy Muslims or the Aztec and Incas Empires.
Join the Anorak Forums and write for Anorak

Posted: 20th, March 2010 | In: Key Posts, Reviews Comments (5) | TrackBack | Permalink