Arab European League Bashes Jews To Get Geert Wilders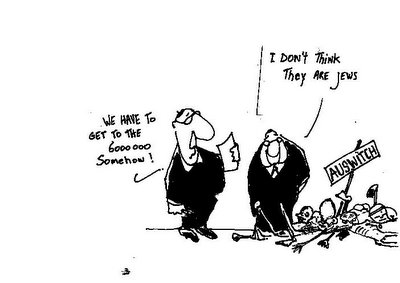 IN Holland the Arab European League wants to prove that the media is biased against Muslims by attacking the Jews in print.
It's an ingenious plan. If you are told you can't publish the anti-Semitic cartoon that desecrates the memory of millions of murdered Jews, you prove that the media is racist against Muslims.
When Geert Wilders Came To London: Pictures
If you get it published you prove that you are an anti-Semite who rubbishes the deaths of millions and turns all survivors into liars. And that all is fair and good.
The news is that the AEL has been acquitted of hate crime for the Holocaust-denying cartoon published on their website.
The Arab European League wanted to deliberately provoke a prosecution. The leader of the AEL, one Abdoulmouthalib Bouzerda, was cheesed off that Geert Wilders was not prosecuted for the Motoons (cartoons of the Muslim Propher). Says he:
Freedom of expression is only a pretext to make life bitter for Muslims… and if [they] try to bring this hypocrisy to light, that right is denied them.
Well, it turns out that he was wrong. But, still, he got to bash the Jews. So, it wasn't  all in vain…
South Park KowTows To Muslim 'Prediction' Of Violence
Titanic Magazine Pictures Jesus Getting A Blow Job From A Cardinal
Swedish Papers Publish Axeman Lars Vilks Mohammed Cartoons
In Pictures: Lars Vilks, Plots And The Assimilation Of Ireland's Muslims
Posted: 23rd, April 2010 | In: Reviews Comment (1) | TrackBack | Permalink