Zionist FIFA Hates Me Because I'm Black: Trinidad's Side-lined Jack Warner Plays Race Card
FORMER FIFA Vice-President Jack Warner says football's world governing body is racist, zionist and discriminates against non-whites .
Warner, still Trinidad and Tobago's Minister of Works, says so in a letter to the Trinidad Guardian newspaper. It gives no detail to support the allegations, claiming he will reveal all after sacked FIFA Vice-President Mohamed Bin Hammam's case at the Court of Arbitration for Sport.
Warner was due to appear in the same FIFA Ethics Committee inquiry which booted out Bin Hammam but quit before the hearing and did not appear.
"I will talk about the racism that is within FIFA," Warner said, "I will talk about the zionism, which probably is the most important reason why this acrid attack on Bin Hammam and me was mounted. There is much to talk about that will make sponsors cringe with painful surprise."
He claims there is a FIFA conspiracy to keep power in the hands of the favoured few and asks:
"Is it that people of colour cannot administer football? Or is it that only Europeans possess the skill to do so?"


Bin Hammam was FIFA Vice-President and President of the Asian Football Confederation President, is challenging his expulsion by FIFA for bribing Caribbean Football Union delegates before the June 2011 FIFA Presidential elections.
FIFA claimed "overwhelming evidence" suggested Warner backed and aided Bin Hammam and a video showed the Trinidadian advising delegates regarding the Qatari's financial "gift".
Warner was then President of CONCACAF, the North American region governing body, and the CFU but walked the plank before his FIFA hearing.
The Herald Tribune says Warner threatened a "tsunami" of allegations of his own aimed at FIFA President Sepp Blatter and CONCACAF Vice-President Chuck Blazer who blew the whistle on the bribery allegations.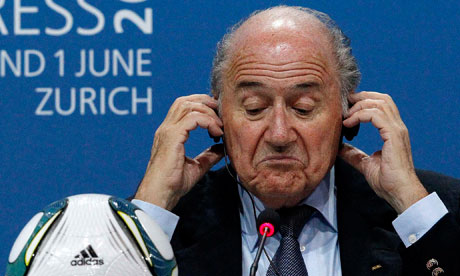 Warner said in the letter: "I will also tell you about the attempts I have made over the years, in my capacity as deputy chairman of FIFA finance committee, to find out the salary of Sepp Blatter.
''In spite of serving on the finance committee for over eight years, I have not been able, through the books or even through direct requests to him, to determine the quantum of money given to him for the office of the president of FIFA."
Warner said FIFA was not a multi-racial institution, and claimed he would make revelations about Blatter's previous FIFA election victories in 1998 and 2002 when both he and Bin Hammam campaigned for him.
Bin Hammam and Warner were both charged by FIFA with bribery over the meeting in Trinidad in May when cash gifts of $40,000 each were allegedly handed over or offered to officials from 25 Caribbean associations.
The letter came after video transcripts of Warner suggesting his Caribbean colleagues were free to accept gifts from former FIFA Presidential hopeful Mohamed Bin Hammam are rumoured to have been handed to the Attorney General in Trinidad.
"In my expose, I will discuss the litany of broken promises made to me by Blatter," Warner said. "All the real 'gifts' that Blatter gave to secure his two elections will turn stomachs inside out."


Chuck Blazer, left, is American football's resigning general secretary but retaining his FIFA seat. The former best buddy of Jack Warne, before the spectacular fall out in the cash for votes scandal, now says Warner is taking "garbage" in "an amazing work of fiction".
It seems football administration remains the Brutal Game Of Getting The Boot In
Posted: 20th, October 2011 | In: Key Posts, Sports Comment (1) | TrackBack | Permalink