Libya Wants Nato Help Finishing Off Gaddafi Fighters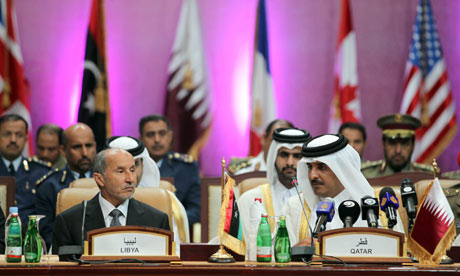 LIBYA wants Nato to stay in the air to hound/pound Gaddafi supporters until at least early 2012.
The country's, out-going interim leader Mustafa Abdel Jalil told military allies in Qatar today help was wanted to mop up stragglers trying to leave Libya. It apparently means the new Government regards all Gaddafi supporters as war criminals.
Photo: Mustafa Abdel Jalil, left, at the friends of Libya conference in Qatar today
Nato who provided all rebel force air cover during the fight against Gaddafi had been thought ready to pull out on October 30 after Gaddafi's death and burial and last Sunday's announcement by the National Transitional Council (NTC) that Libya was liberated.
Jalil said help was need to stop Gaddafi supporters leaving the country.
Nato will have a serious headache with that request since its brief from the United Nations was to stop any harm coming to Libya citizens.
If Nato agree to stay and again act as the world's policeman by attacking fleeing Libyans the United Nations may have more than a little to add to the discussion.
Image: An effigy of Libyan dictator Moammar Gadhafi with writing in Arabic reading "Libya Hura", meaning "Libya Free" is displayed at a check point at the entrance of Misrata, Libya, Tuesday Oct. 25, 2011. The bodies of Moammar Gadhafi, his son, Muatassim Gadhafi, and his ex-defense minister Abu Bakr Younis were buried in a secret location. (AP Photo/Francois Mori)
Posted: 26th, October 2011 | In: Reviews Comment (1) | TrackBack | Permalink