Taking One For The Newsdesk: Turkey Earthquake Journalists Get The Last Byline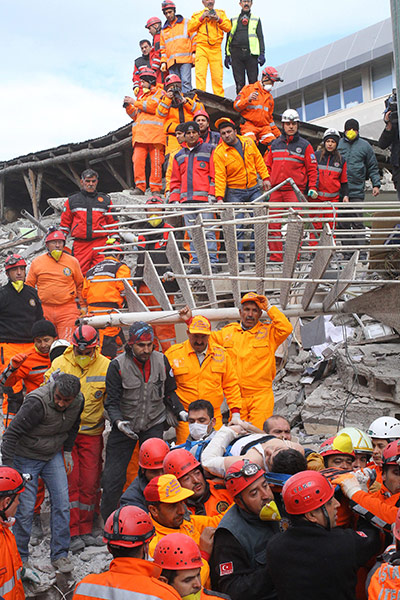 THAT second earthquake in Turkey is getting really serious. No! It is!
The Singapore Straits Times reported a couple of hours ago:
"NKARA (AFP) – A 5.6 magnitude earthquake that recently struck eastern Turkey killed at least 27 people, including two Turkish journalists, the Anatolia news agency reported on Saturday.
Rescuers over the night retrieved the bodies of two reporters from the private Dogan news agency – 26-year-old Cem Emir and 58-year-old Sebahattin Yilmaz – from the debris of a hotel building which was toppled by the earthquake late Wednesday. It struck less than three weeks after a massive deadly quake in the same area, which killed more than 600 people. "
Image: Always make time for that photo opportunity. Rescuers, on the left, pose as a wounded victim is carried away.

This is terrible, more than 625 killed and NOW two journalists have been pulled dead from the rubble of their hotel.
Is no-one DOING anything out there?

Nobody panic. Nobody panic. Oh God we could all be killed.
Or, as any grizzled news editor would say:"When you become the news your career's finished."
Posted: 12th, November 2011 | In: Reviews Comment | TrackBack | Permalink