Jon Venables' Sex, Porn, Hadley Freeman, Playstation And Maltesers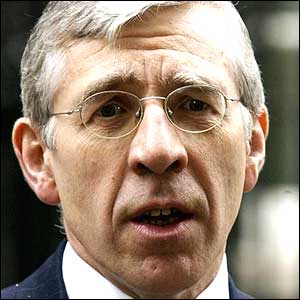 ALL in all, Jon Venables has been very bad news for Justice Secretary Jack Straw, writes AGW.
It is difficult to comprehend why the stumbling release of the news of the recall to jail of Jon Venables, 27, one of the joint killers of two-year-old James Bulger and the subsequent furore was handled so badly. It could not have been worse.
Straw was forced into an uncomfortable Thursday meeting with James' mother Denise Fergus where she agreed to staying quiet after being told nothing and in the same week came half-expected news and a recommendation to raise the age of criminal responsibility from 10 to 12-years-old
Yesterday's Times carried an interview with the newly-appointed Child Commissioner Dr Maggie Atkinson, who moved into the job about the same time as Jon Venables was being lifted two weeks ago, she described the toddler's killing as "unpleasant" and said his killers should never have been prosecuted.
Dr Atkinson called for the age of criminal responsibility to be raised from 10 to 12, meaning Jon Venables and Robert Thompson, (both ten at the time) would never have stood trial.
Denise Fergus says ten-year-olds can be truly evil
That gave Denise Fergus the opportunity to come out and punch her full weight once again.
The deeply angered mother called for the new Commissioner to be sacked at once
for "twisted and insensitive" comments about her son's murder.
The BBC reported:

"Denise Fergus spoke out after Maggie Atkinson suggested James's killers should not have been prosecuted because, aged 10, they were too young.

"Ms Atkinson had said children under 12 did not fully understand their actions.
"But the Ministry of Justice said those over 10 knew the difference "between bad behaviour and serious wrongdoing".
"Mrs Fergus told reporters: "This woman owes James and me an apology for her twisted and insensitive comments. Then she should resign, or be sacked.

"To say that his killers should not have been tried in an adult court is stupid.

"They committed an adult crime – a cold-blooded murder that was planned and premeditated – and they were tried accordingly."

She added: "It is a shock to people like Dr Atkinson that children can be truly evil by 10.

"But it is a fact and I fear there will be more of them and we need laws to be tightened up so we can deal with them."
The People today has Laura Armstrong's everyday story of prison folk.
There, in the prison which shall forever be a secret place, known only to every tabloid hack in the UK:

"Arrogant Jon Venables is taunting prison staff – bragging that he is "untouchable".

"James Bulger's killer – put back behind bars two weeks ago over child porn claims – shamelessly trades on the fact that his identity must be kept a strict secret.

"Venables, 27, who spends his time on a PlayStation and munching up to 10 bags of Maltesers a day, told officers: 'One hair on my head gets hurt and you're in the s***.'

"Only a handful of senior staff at the jail where he is held know his true identity. Officers have been warned they face the sack – or even jail terms – if they reveal his identity.

"A Home Office source said: "Venables is lording it up in there and quite frankly it's sickening. He is not even paying for his own sweets – the prison picks up the tab.

"He eats Maltesers all day and has a PlayStation to himself to try to keep him happy.

"Everyone thought he would be terrified of people finding out who he is but it seems that couldn't be further from the truth.

"He's as cocky as they come and knows that if anything happens to him then heads will roll."
So then, only a handful of prison officer, and a Home Office "source" on their way to join Venables in the secret chokey for breaching secrecy rules and telling Laura all about Evil Jon

In the Observer Peter Preston, Guardian Editor for over 20 years, takes a serious look at the coverage and points the finger at the great unwashed's ability to make direct comment widely available via sites such as this. Jon Venables case reveals the dark side of online opinion
Watch for the subtle example of Preston's unconscious old editor patronising with:
"Yet this time another voice opened another front. Hadley Freeman at the Guardian is a fashion expert turning into a terrific columnist."
Fashion writer with a brain, Oh Dear.
I expect Hadley will be simpering with girlie pleasure at that mention from one of the greats.
The News of the World spots what Anorak has said from the beginning. There may be no trial no public exposure, no satisfaction for Denise Fergus and the Bulger Family.
In Sunday newspaper-speak the fact the Jon Venables is in jail after life-licence recall and there may be no trial is treated as a "Bombshell"


Jon Venables, left and Robert Thompson
James Bulger's ten-year-old murderers
Venables is once again "Evil" as he escapes the dock .
The outraged News of the World says "

Jon Venables will escape prosecution for child porn offences but could still spend TEN YEARS in jail without trial.


That is how long the powerful parole board could cage him for breaching the conditions of his release on licence.


The News of the World has learned that Justice Secretary Jack Straw is being pushed by senior advisors [sic] to take the "easier option" of leaving the Venables case in the hands of parole chiefs.


The alternative is a trial which could blow Venables' cover if he has to face charges of possession of Category Four material – one of the worst levels of child porn.


A source told us: "There is a drive to persuade the Justice Secretary and the Crown Prosecution Service not to charge Venables as it would provide everyone with the easier option to manage.


"However there is a strong feeling that this is too little too late.


"Mr Straw should have taken a harder line from the start but now the genie is out of the bottle, causing a frenzy which is proving a nightmare to keep a lid on."


Venables was thrown back in jail nearly three weeks ago after police allegedly found child porn images on his laptop, breaching his parole conditions over the 1993 murder of two-year-old James Bulger in Bootle, Merseyside.
It gets worse for the NoTW:
Mr Straw's advisors [sic] have warned him that taking Venables to court would lead to "lurid details coming out in full Technicolor". The Justice Department are also:
• TERRIFIED of vigilante attacks if Venables' new identity becomes public knowledge.
• DESPERATE to avoid the trouble of creating a THIRD identity for him at a cost to taxpayers of over £250,000.
• PARANOID that Venables, said to be a broken man over the storm engulfing him, will commit SUICIDE in jail.
The newspaper then gets down to full lurid Sunday style and introduces former Detective Superintendent Albert Kirby who talks of sexual motivations:

"The sexual nature of the torture and murder of James was never hidden from the court or the authorities. However they deemed it was safe to release these boys when they were just 18. I'm concerned some of the issues relating to what happened to James were forgotten in a relatively short space of time."
It's all there. And the Justice Secretary Jack Straw wants to keep a lid on it?
No chance Jack, even the Aussies knew you blew it.
Posted: 14th, March 2010 | In: Key Posts, Reviews Comment | TrackBack | Permalink